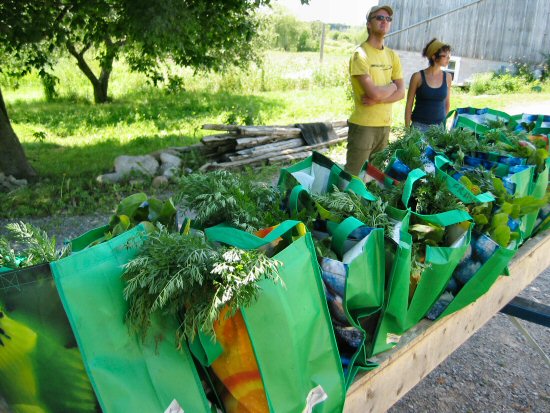 Hello all! Happy Friday! Here's hoping for sunny skies and calmer winds, wherever you find yourself this weekend!
Got any great weekend plans? I'm going to this lecture tonight on renewing America's local food networks and "food sheds," along with restoring heritage crop species. Very excited about it. Sunday, I'm heading over to my friends Meg and Alisa's place for a haircut in exchange for some of my eggs, local honey, and some home-canned goodies from my pantry. These creative ladies are an absolute riot, so much chortling, sn0rty laughter, and bawdy talk is bound to ensue.
Stay warm! Layer up! Get some sun on your hands or face when/if you can! We need all the Vitamin D and warmth we can get in these last few weeks of winter!
I'm participating in Tigress' Can Jam. For the uninitiated, the Jam consists of a year-long, home-based, monthly canning session, dedicated to one ingredient, chosen by one lucky blogger (who signed up for the Can Jam right at the onset of its announcement.) For the month of March, yours truly gets to choose the ingredient that all Can Jam participants will be rendering into some canned delicacy of immeasurable and highly laudable delight (or at least, one hopes…).
I don't know where most of you live, but for me, situated as I am in the mountains of western North Carolina, not much is growing here in March. The farmer's markets don't even start up again until mid-April. Even then, for the most part all you'll find are leafy greens and the occasional radish on the farmer's tables, with maybe a stalk or two of rhubarb, if you're lucky.
Which is why all-things-Allium seemed like the obvious choice for this month's Can Jam. From tender, green scallions, chives,
scapes
,
ramps
, and leeks to papery, husky onions, shallots, and garlic,
the Allium family
is the vegetable world equivalent of the guest who shows up at 6:50 p.m. for the cocktail party that begins at 7:00-by showing up early and motivated as all get out, they get the party started. Alliums are ready for the good times to begin again.
Much like last's month Can Jam ingredient, carrots, Alliums are also low-acid foods. Accordingly, once canned and hermetically sealed into an anaerobic environment, latent botulism spores found on Alliums can become activated and thrive. I don't want that. You don't want that. No one but the botulism spores wants that. But you just can't let them win! You must resist! Refer to Tigress' erudite tutorial on properly acidifying low-acid foods for safe water bath canning
here
.
From
onion chutneys, to scallion relishes, leek confits, garlic jam and so, so very much more, you'll find some Allium that tickles your fancy, both safely and deliciously. You've got an
entire family
here; surely you'll find at least one family member for whom you don't mind being sat next to at the dinner table!
*Begin posting your recipes March 12-19th. If you need a refresher about posting specifics, refer to the main Can Jam link in the beginning of this post. Let the sulfurous breath begin!
I come from a line of very chatty folks. If my Pop is in an elevator with you (you being a complete stranger in this scenario), after passing several floors, it's pretty likely he'll have learned your name, where you're from, and where you're headed. If you should meet my mom in a restaurant, she'll have gained the same information and will additionally part ways with a big, tight hug.
Furthermore, both of my grandmothers are notorious talkers, chatting up the kids, grandkids, and complete strangers with equal vim and vigor. We're a vocal bunch, my lineage. We like to connect, articulate, convey, and inquire (
heavy
emphasis on the inquire bit). I'm certainly not immune to this genetic predisposition. It's in my blood. If you are ringing up my groceries, I'll make a comment about your cool hat. If you're repairing something in my house, I'll find out your name and how long you've lived in the area. I'm curious about the lives of others, and so, following tradition, I'll chat you up.
Which is how I came to meet Josh and Denise. Josh, with his unmistakable goatee (more on this later) and piled-up dreads, was someone I recognized from the wine and beer department of my local natural food store. One auspicious day, I saw him at a gas station out near my house. Living, as I do, about 20 minutes outside of downtown, I began to wonder if he shared my stomping grounds. And so, the next time I saw him at the natural foods store, I chatted with him. Turns out he does live out my way. Even better, his wife, Denise, is a cheese-maker, crafting exquisite mozzarella cheeses for area stores and farmer's markets. Our friendship blossomed. Josh, it turns out, is a chatty type, too. I'd found "my people."
I would go on to shadow Denise during one of her cheese-making rounds, learning the art of stretching warmed curd, and later profile her in my "Home Dairy" book, the third in the "
Homemade Living
" series ("Home Dairy" will be available April 2011). Josh, Denise, and their adorable daughter Elora, have attended several dinner parties at our home. Yesterday, I finally made it over to their place. They're goat owners, and chicken owners, and dog and cat and garden owners. My people, again. Lured over by Denise's recent mention of new baby goats, I seized the opportunity offered by a sunny day (finally!) and headed up the steep mountain to their high-altitude mini-farm.
It was an absolute delight. They're a wonderful couple, in love with each other, their daughter, and the life they're forging together. Their menagerie of animals was gorgeous, and friendly, aside from the head-butting antics of their alpha billy goat (who, like Josh, sports a goatee; until yesterday, I never realized that the hairy beard hanging from a goat is where the word "goatee" comes from-seems obvious, but then, I've been known to overlook the obvious).
I look forward to spending more time with my new human and animal friends. Good thing I chatted Josh up that day. Talking to strangers offers the possibility for rewards you might never have imagined. Thanks for the chatty gene, Mom and Pop.
*To see more photos from my visit with Josh and Denise, click
here
.
As promised, here's a sneak peek at my forthcoming book on chickens, entitled "Keeping Chickens with Ashley English: All You Need to Know to Care for a Happy, Healthy Flock." I love, love, love this book, and not just because I wrote it. It's such a beautifully presented guide for getting going, and remaining going strong, with "chicken tendering." It's full of hand-holding instruction and delicious recipes developed right here, in my kitchen.
This book, along with its companion in the "Homemade Living" series, "Canning & Preserving with Ashley English: All You Need to Know About Jams, Jellies, Pickles, Chutneys & More", hits bookstore shelves April 6, 2010. Both are available online now for pre-order. Then, in Spring 2011, the next two books in the series, "Home Dairy" and "Keeping Bees" will make their appearance. You'll love them. I guarantee it.
I'm so thrilled to offer these books to you. Not only are they beautiful to look at and chock full of tactile information to guide you, they show a real person who pursued these endeavors, messing up at times, scoring victories at others. It's a relatable, approachable, fully human story. I look forward to sharing it with you.

*The rooster above is Elvis, cradled carefully in the ever-capable hands of my friend Lance Graves. Lance and his wife run a fantastic farm here in the Asheville area, the Double 'G' ranch. They also serve as suppliers of organic chicken feed, among other poultry and animal products. They graciously allowed us to photograph on their property last year and have been helpful in so very many ways.
Happy Friday! The sun is shining and it's supposed to get up to 46 degrees today here. It couldn't come any sooner!
My "Small Measures with Ashley" post is up on Design Sponge. Today's topic covers habitats for wild pollinators. Absolutely crucial to food crop pollination, wild pollinators need all the love we can give them. The three habitats shown above were expertly crafted by my creative, and attention-to-detail-loving, spouse. We'll position them in varying locations around the property, inviting bachelor and bachelorette pollinators to hang out a shingle and call the place home.
*Be sure to check back later today for a sneak peek at my "Keeping Chickens" book!