We had this stack of beauties for breakfast today, in honor of the occasion. They're pumpkin & crystallized ginger waffles and they are the epitome of pumpkin perfection. Thanks to my sister Devan for turning us on to them during her visit last weekend. Don't deny yourself the power of the pumpkin! Give them something good to eat!
Recipe can be found
here
. Happy Pumpkin Day! 
*I think the photo might be mildly blurry, not sure. My eyeglasses are still in recovery. Was wearing my sunglasses, indoors, on a very grey day, in an always darkened house, when taking the shot.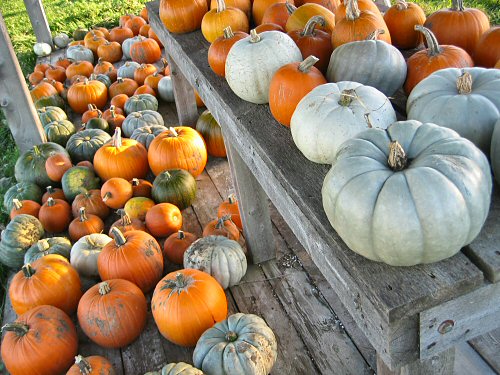 As I write this, the cove back here is filled with fog and mist. Both of the large maples have finally gone yellow and their riot of color is littering the porch, little sheets of gold falling softly down, down, down. The mood outside fits the bill, given that it's Halloween weekend! Come check out my "Small Measures with Ashley" post this week on Design Sponge where I talk about putting the 'Eco' in Ectoplasm and offer tips for greening up Halloween. 
Do you have any spooktacular plans? We're probably going to just lay low. My glasses are still in the ICU, on life support. Hopefully I'll get them back safe and sound soon, but I'm pretty much crippled for distance-viewing without them. I'm busy working on the cheese chapter of the "Home Dairy" book, too, with a fridge groaning under the weight of multiple gallons of milk, untold cartons of cream, and completed items like ricotta and cottage cheese (on today's agenda-mascarpone and paneer!). A quiet weekend at home is what's in order for this vision-impaired, deadline-approaching lass. I live vicariously through the outings of others, though, so do tell what you've got in store!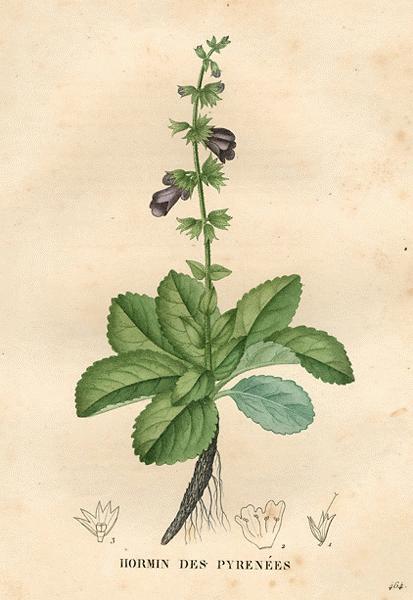 My husband is an incredible chef. Friends and family clamor for his foods. Seriously. My younger sister, Devan, who was just visiting, had offered during her stay with us back in June, to return in October and refinish the wood floors in our upstairs area in exchange for being fed Glenn's food. While I exempted her from that task (we really only had 2 full days together and the weather was much too glorious for primer and shellac-or whatever it is you put on wood floors…), Glenn held up his end of the bargain. 
Part of his recent culinary deliciousness was the Apple & Sage Mac-n-Cheese at the apple potluck. Several of you have digitally drooled over its mere mention, while others have requested the recipe itself. I asked Glenn if he'd be willing to write it up and he willingly complied. In his own words, I give you Mac-n-Cheese bliss:
Apple-Sage Mac and Cheese
-Peel and cube 4 apples. Roast them in the oven at 350 for 30 minutes. Set aside. Leave oven at 350 degrees. 
-Cook one pound of gobetti or a similar noodle till al dente, drain, and set aside in a large, buttered pyrex baking dish.
-Meanwhile, sweat one medium diced onion in a little oil for a few minutes.
-Add a couple minced cloves of garlic and cook for a couple more minutes.
-Add three tablespoons flour and an equal amount of oil to the pan (the one used for cooking the onion and garlic).
-Stir consistently over medium heat to make a blond roux.
-Add two cups of milk and whisk into roux.
-Add a pound of grated sharp cheese, stir until smooth.
-Add some grated nutmeg, a couple dashes of hot sauce, a pinch of salt, the onion and garlic mixture, the roasted apple -cubes, and a handful of chopped sage leaves. 
-Beat four eggs in a bowl, then stir the egg mixture into the cheese sauce.
-Remove from heat and pour cheese mixture into the pan with the pasta. Mix well. 
-Top with 6-8 ounces of grated cheddar. 
-Top that with thin slices of apple.
-Bake at 350 degrees for 1/2 hour. Finish it off under the broiler for a minute if you like it extra crispy on top.
Our "Sweet & Savory Apple Potluck" this past Saturday evening was a wonderful success. Just the right amount of guests came (I think around 18-ish) to make the house feel cozy and festive without becoming claustrophobic! There were two incredibly cool toddlers (Quinn, Elora-you're welcome here anytime), libations 'a plenty, and a roaring fire outdoors in the fire ring, although it was too chilly and windy for anyone to feel compelled to gather 'round it. No bother, it was pretty and that alone justifies it.
The real stars of the evening were, of course, the dishes. Guests got quite clever in their apple-making, covering our oak dining table in a feast of savory and sweet deliciousness alike. Thanks abound to all who made it out. My home and taste buds look forward to the next inspired potluck! 
In no particular order, we dined on:
*Apple chard quiche with crimini mushrooms, caramelized onions and sharp cheddar cheese in a spelt crust
*Cumin-roasted buttercup squash with roasted garlic, sauteed greens and baked apples
*Cabbage, apple, onion and savory stir-fry
*Baked apple halves stuffed with goat blue cheese in a sage port wine reduction
*Apple-sage whole wheat mac & cheese
*Cabbage, apple and walnut salad with blue cheese dressing
*Apple, garlic, onion, cheddar, bell pepper and fresh herb frittata
*Apple, walnut, pomegranate salad with goat cheese
*Caramel apples sprinkled with celtic sea salt (and a smokey lavender & lapsang souchong salt blend on a few)
*Apple skillet pie in an almond crust
*Pumpkin pie (whose sign read "that wishes it were an apple")
*A medley of hard apple ciders, including Ace, Harpoon, Woodchuck and Hornsby
*Hot apple cider & whiskey infused with star anise, whole cloves and cinnamon sticks
It was exquisite. Apple ecstasy was ours! Feel free to steal this idea. I promise it will be well received!
I am bereft, friends. Despondent. Saddened. Heart-heavy. The filagreed beauties you see before you were, until yesterday morning, my second set of eyes for the past 12 years. Furthermore, there were an heirloom, belonging to my great-grandmother, Lena May Law. After letting the chickens out early yesterday morning, I returned to the house with the dogs, all set to feed my five hungry, heavily vocal cats. As I was removing my eyeglasses, the left side remained stubbornly stuck behind my left ear. I tugged on it with one hand (a colossally bad decision in hindsight, which, unlike me, is 20-20), and saw the middle begin to bend. In a panic, I lifted them off with two hands and watched them gently break in two. 
A trip to a nearby optometrist today informs me they are beyond repair. Once the mold is broken, they apparently cannot be mended. I know I shouldn't be so attached to my glasses. I know that, but I don't feel that. Maw-Maw, as she was known to me, experienced her quiet life behind those frames, as did I. I even have a picture of her wearing them when I was just a baby, along with my mother and grandmother in the photo. Sure, I'll find other vintage cat-eye glasses. It's become my look, after all, one which I've curated and like. They won't be hers, though, making the past the present every time I fit them behind my ears and over the bridge of my nose. 
In the meantime, I'm looking through a lens darkly. Literally. Owning no spare pair (I know, again, another colossally bad decision), I've been relying on my sunglasses. Fortunately, my specs are for distances, so, as long as it's daylight while I'm driving or I'm sitting really close to the television, everything is fine. I'll get a quick-fix pair soon (tomorrow?) and begin the vintage hunt. If you have a good source, I'm all ears (eyes?). RIP Maw-Maw specs. You provided clarity unrivaled. 
*
Specs update:
It's entirely possible that all hope may not yet be lost. My sweet hubs found a website for vintage eyeglass repair. Cornell, at Frame Fixers, assured me this morning that my glasses can be repaired. Glenn is taking them to the post office today to be sent Priority Mail to upstate NY. Cornell is one of only two persons left in the entire U.S. with the know-how and equipment needed to repair glasses such as mine. Here's to hoping it works! I'll keep you updated as further reports come in…