So, piggybacking on my previous musings about why I love where I live so much, I'd be remiss in not including what I feel is perhaps the biggest asset here, my lady friends. I feel like a perpetual lottery winner whenever I meet up with any of these sensational ladies. Adjectives that immediately come to mind include, but are in no way limited to: stunning, insightful, arresting, intriguing, creative, hilarious, clever, gracious, generous, witty and kind. You know in "Around the Way Girl" when L.L. Cool J lists off his favorite ladies from the block? Well, here's my version: "Meredith, Nicole, Rachel, Bailey-I love you, you're from around the way."
One of my ladies listed in the L.L. rendition, Meredith, with her business partner Jessica, created Aria Floral last year. Aria is a sustainable floral design company. The sustainable element of their business includes both the plants and flowers used as well as the manner in which they are obtained. Aria's signature style utilizes potted plants and herbs in centerpieces, often locally sourced. At the conclusion of the occasion (wedding, dinner party, Arts event, what-have-you), the centerpieces can be disassembled, allowing guests to take home the plants and incorporate them into their own gardens and homes. Additionally, Meredith and Jessica ethically wild craft many of the items used in their displays, from forests, their own yards, even roadside underpasses, I've been told.
This approach to floral design has found an enthusiastic audience in the Asheville area, and beyond (they're doing a wedding in the mountains of Virginia soon). Many floral companies use cut flowers shipped from thousands of miles away, including a large amount from Central America. While Aria uses national distributors when needed, their emphasis on sourcing from local growers and suppliers, as well as from nature at large, is timely and conscientious. Plus, they do some pretty gorgeous work. I've been lucky enough to have worked with them on several weddings this season and am continually struck by the beauty of their designs. "Forest Elegance" is how Meredith described one look for me. Who wouldn't want to fall into such a world on their special day? Even the nastiest bridezilla would surely be silenced in the face of such profound beauty. Any one who would not succumb is the type of person who doesn't like rainbows, or would kill a bee, or spit at a unicorn.

There are many things I love about living where I live. I love that there are 4 distinct seasons here, and that the more extreme seasons are not anywhere as nasty as they could be (I still sleep under a down comforter in July!). I love just how verdant it gets in the summer. I love that funky and fundamental contingents bump up against each other all the time. And, perhaps most of all, I love how agriculturally rich the area is, and truly, always has been. Things grow here. I mean, REALLY grow here. Happily. Sometimes, depending on where you are, you have to coax and coddle and placate the soil with mushroom compost or lime or chicken poop to even out the clay if you're trying to grow veggies or other edibles. But take a walk in any nearby forest, of which there are many, and you will find green splendor gone wild. It's almost profane, actually, just how scandalously the green parades itself around. It calls to mind stirrings under the soil, just out of sight, and abundance and bounty and lushness and seduction. This is one of the oldest and most bio-diverse regions on the planet and it shows. Species of plants and animals are found here that are found no where else. Perhaps owing to this, the area feels old, and wise, and seasoned. It feels full of secrets and treasures, available only to the patient and those willing to persevere.



Patience and perseverance have definitely paid off for one area farm. Mountain Farm, a 24-acre lavender, blueberry and goat farm in Burnsville, NC, in the Southern Appalachians, held its annual Lavender Festival this past weekend. Located about 1 hour north of Asheville, N.C., the farm is situated on a scenic hilltop, surrounded by lush mountains. Part open setting, part rhododendron-shrouded forest, the farm opens its barn doors to the public each July and invites the world in for a feast of the senses. Activities for adults as well as children were offered, ranging for lavender wand-making demonstrations to face-painting. A farm store sold hand-crafted, farm-produced lavender and goat body care products, including such indulgent delights as a lavender & orange sugar facescrub, as well as culinary items including lavender vinegar (plain, with blueberries, or with rosemary), lavender salt for fish and meat rubs and lavender blended teas, a standout being a lavender chai. My friends and I spread our picnic blanket and picniced under a willow tree with full view of the farm's pond before delighting ourselves with lavender lemonade and lavender cupcakes made by an Asheville-based baker. So blissed out by the fragrant herb were we (I accidentally doused myself with lavender essential oil a bit too heavily and rubbed my friends arms and necks to even out the headiness) that not even a mountain rainstorm could quench our joy. As I said at the onset, there are many reasons why I love living here. Goats and lavender just make it even better.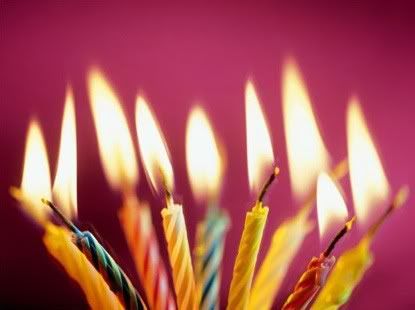 I still get excited about my birthday. I can't really help it. It's my mother's fault. Isn't that what we always default to, blaming our mothers? In this case, it's true, though. She did me in years ago. My brother, too. The bar was set so enormously high for birthday extravaganzas (not to mention Christmas, Easter, Thanksgiving, Valentine's Day, you get the idea…) that I truly feel for the past paramours in my life who have had to deal with "The Birthday Spector." I mean, who could possibly compete with Chuck-E-Cheese blowouts in my childhood, slumber party mayhem in my tweens (complete with bobbing for apples AND pizza!) and a masquerade party at 16. COME ON! Mom loves to have a good time. She loves to socialize and chat and live large. And she passed this on to me, along with the lasting impression that birthdays are one's very, very special, sacrosanct day, not to be forgotten, not to be taken lightly. In many ways, they truly are. It's your birthday. The day of your birth. This is serious stuff, folks. That journey from concept to finished good is no small thing.
Fate saw fit to pair me up with an amazing gift-giver. My spouse has an uncanny knack for getting just the right thing for the right person. He's listening to everyone, all the time, even if he seems locked up in Glenn-land, thinking thoughts of extreme profundity. I often imagine he's stealthily unraveling the secrets of the ages. In actuality, however, most likely he's really just listening and noting to himself that my mom mentioned in passing that she needs new cookie sheets, or that my friends (whom he had never even met at the time!!) were having a baby and need super hip baby clothes, or some other random thing I happen to mention desiring in passing. He's a super-giver. Folks like him are rare, rare gems.
So, because my birthday is approaching, and because, even though I'm creeping up on 32 and should be well past such child-ish birthday enthusiasm, I find myself getting excited. Again, I can't help it. It's mom, remember? It's mom that caused me to throw myself a 25th birthday dance party/pot-luck blowout. And a 30th birthday pinata/build-your-own-tostada/homemade mojito & sangria shindig. This excitement is an enormous catalyst, though. This excitement motivates me to turn inward and ask myself truly important questions. Questions like, which pair of shoes would I rather have come birthday-time? The pragmatic, I-live-on-12-acres-and-oversee-the-care-of-14-animals boots, or the so-cute-I'm-nauseous wedges? But it's not really my fault. Are you reading this mom? Did you note the wedges?